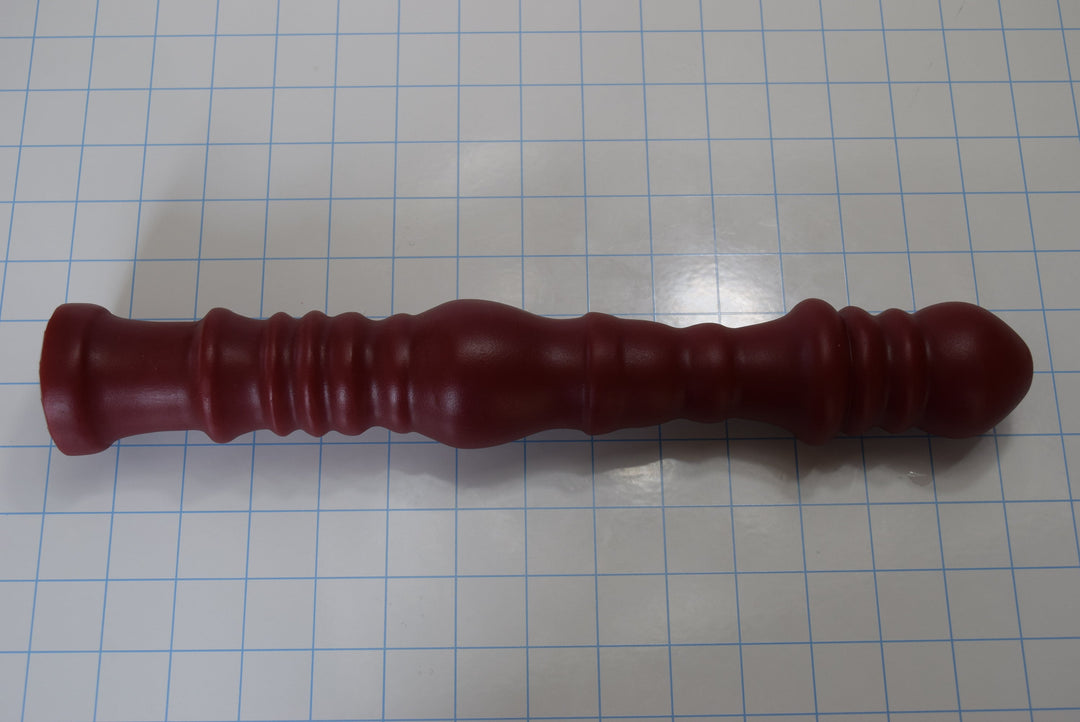 Multi Dimensional 14" Enhanced Ribbed/Ball Silicone Enema Nozzle
In stock, ready to ship

Inventory on the way
Here is another variation on our multi-ball ribbed style colon nozzles specifically designed with those of you in mind that want a very stimulating nozzle that will extend into the lower sigmoid colon, allowing the delivery of the solution to a higher position above the rectum. The larger diameter of the ribs and balls should form an adequate seal to contain the contents of the enema before enough back pressure is exhibited to allow the solution to back flow over the nozzle and exit the anus if that is your desire.     
Its overall length is 14" inches with approximately  13" insertable to the flared base. The ball tip diameter is 1.9", which is immediately followed by two ribs at 1.7 and 1.8''.  Those are immediately followed by another rib at 2.0" diameter. The nozzle then tapers down to approximately 1.2'' into a gently ribbed valley for the next two inches before expanding slightly out to another 1.7" rib that is just ahead of another large ball with a diameter of 2.1". This ball is followed by four ribs varying slightly in diameter at approximately 1.8" that is followed by the final rib at approximately 1.9" in diameter. This rib is followed by the last remaining valley of 1.5" in diameter and 1.5" in length. The final retaining flange is 2.2" in diameter. This piece is quite unique and could be used for a multitude of experiences by both men and women.
The #18 and #30 are the only silicone that we have available in pure translucent. The #00-50 and #10 base color are a translucent white but can be mixed with all our standard color selections. 
Thank you for choosing Siliconenozzles.com!