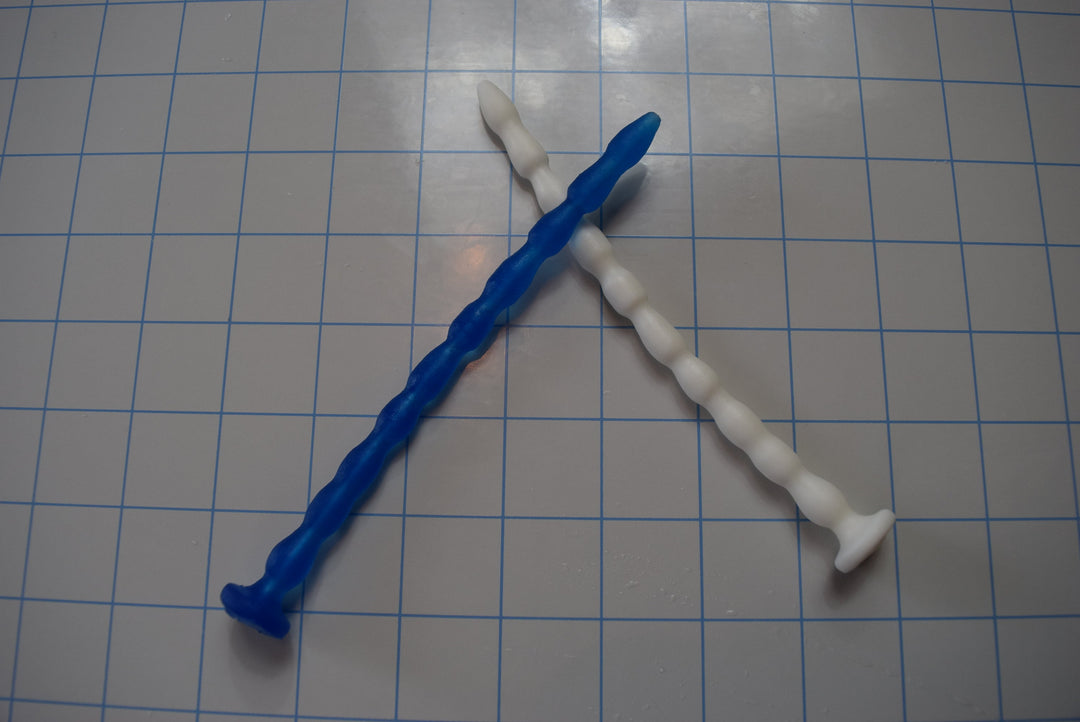 SSND-MRB 8-10mm - 25-30Fr 6" Unique Ribbed Silicone Sound
In stock, ready to ship

Inventory on the way
Due to many requests from our customers we have designed and introduced this multi-ribbed multi-dimensional flexible urethral sound that has a unique hold-in-place valley, or groove, at the end next to the flange that can be clearly viewed in the photos. With its tapered and rounded style tip and ribs this probe goes in smoothly providing a generous quantity of sensations as each rib and valley stimulate and spread the way for the following ribs. The total insertable length is approximately 6'', (152mm) up to the flanged style base. This probe can be purchased with open core for extended length wear to accomodate drainage or with a completely solid configuration.
The sound has 10 seperate ribs that vary not only in diameter but shape and length including the gently tapered tip. The first 9 ribs vary slightly in diameter from between 8.5mm at the tip and 9mm. The 10th rib enlarges to approximately 10mm before tapering back down to the 6.7mm valley just before the flange. The urethral sphincter just inside the tip of the penis creates a perfect fit and hold for those that can just manage a 10mm sound. The tapered design of the last rib up to 10mm provides a gentle stretching action to allow the sphincter to gradually stretch before seating itself into and closing around the last valley in front of the flared base flange. This sound should be extremely comfortable yet still quite stimulating for extended wear if that is what you desire.
The rib measurements are as follows:
1 - 8.3 to 8.5mm approximately .330" - Approximately 25Fr
2 - 8.8 to 9mm approximately .350 - Approximately 26Fr
3 - 8.9 to 9.1mm approximately .361 - Approximately 27Fr
4 - 9.0 to 9.2mm approximately .370 - Approximately 27.3Fr
5 - 8.7 to 8.9mm approximately .351 - Approximately 26Fr
6 - 8.7 to 8.9mm approximately .351 - Approximately 26Fr
7 - 8.7 to 9mm approximately .351 - Approximately 26Fr
8 - 8.8 to 9mm approximately .350 - Approximately 26Fr
9 - 9 to 9.2mm approximately .360 - Approximately 26Fr
10 - 9.8 to 10.1mm approximately .394 - Approximately 30Fr
As with all our other silicone nozzles, this one is also available in a wide array of material softness and colors. 
You can make your individual selections as to color, level of softness, and open or solid core type from the drop list boxes. Due to the diameter of this piece the only open core option availabel is 3/32". Any larger core makes the piece too thin in the valleys and subject to failure.
Thank you and enjoy!